Enda Kenny's Enthusiasms (After De Niro in The Untouchables)
This sketch was written following media reports that Enda had lost the improbably coiffured rag with the emergent Lucinda Creighton (hair envy probably) and with Galway East's Ulick Burke who took exception to the parachuting into the region of former PD leader Ciarán Cannon.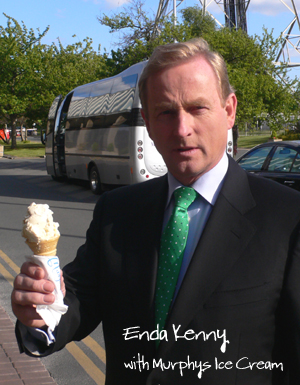 Enda Kenny With Murphy's Ice Cream during '09 Election Campaign
Photo from post on icecreamireland.com
It's not natural to imagine Enda as a violently furious person, but with reference to the performance of Robert de Niro in the famous "Enthusiasms" scene in "The Untouchables" it becomes all too apparent how things must have gone. You don't have to have seen that scene to enjoy this, but it doesn't do any harm and you can catch it here on YouTube.
The sketch was first broadcast in The Emergency Series 1 Episode 4 on April 4th on Newstalk 106-108.
Cast: Morgan C Jones (Enda), Karen Ardiff (Lucinda), Nick McGivney (Cannon), Joe Taylor (Ulick), Dermot Carmody & Eoin Byrne (Various FG members)
Podcast: Play in new window | Download
Leave a Reply